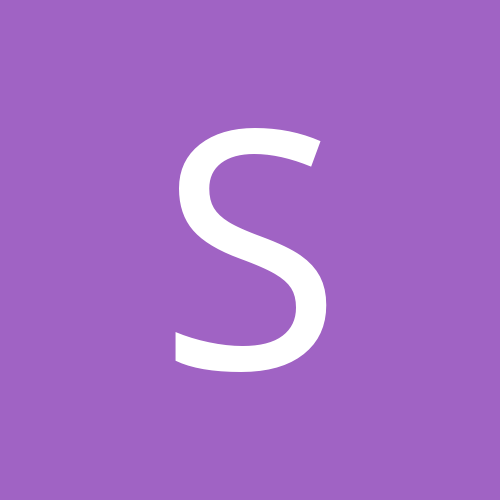 Content count

258

Joined

Last visited
Everything posted by StaticMoth
"If you don't like something, change it. If you can't change it, change your attitude" Ei ole sellist asja nagu halb koht või halb ilm - kõik on tehtav. Oleneb ainult, kui väga Sa tulemust tahad - ise olen terve talv jooksmas käinud 4-5x nädalas. Ja see ei ole ka sugugi ainus variant, hüppenööriga võid ka toas kohapealt tatsata, kui see parema variandina tundub. Ehk suhtumine on siiski võtmesõnaks siin - kui tõesti tahad seda ja võtad eesmärki tõsiselt, siis kasutad kenasti oma näppe ja foorumi/muid neti otsinguid. Tee "kodutöö" ära, vii sisse vastavad kohandused vastavalt oma võimalustele ja stick to it - voila !

Prismadest saab Trauben Zuckeri nimelist asja - ca 15 eeki 500g pakend.

Kusjuures, kui režiim on ikka täiega paigast ära, siis ei aita see kah ... Oleneb "raskusastmest"

Endal ka sarnaseid uneprobleeme olnud ning ZMA'st pole küll tolkugi olnud - uinumist kergemaks ei ole teinud, une kvaliteet samuti endisel tasemel, aga õudukaid ka pole näinud. Keegi raudselt sattus muude asjaolude kokkulangemise tõttu nägema õudukat, ajas selle ZMA kraesse ja oligi "linnalegend" valmis - ja selle jutu põhjal higistades "ai kurat, nüüd näen raudselt õudukaid, kui ZMA võtan" näedki kolle unes. Ühesõnaga - pole vaja üle mõelda.

414 FIT'i, kui teised pakkujad peaks ära kukkuma mingitel asjaoludel

StaticMoth replied to kid's topic in Algajad

http://forums.fitness.ee/index.php?s=&...ost&p=70751

Tervitus! Selline küsimus, et kas online poes müüdavad Optimum Nutritioni Opti-Men vitamiinid on 90 kapsliga või 180 kapsliga versioon?

Kas tsitruselised mitte ei takista raua imendumist lihast?

Pigem ütleks, et Chicerillo ikkagi ...

Selline küsimus, et kas Protein No1 võib ka piimaga segada? või millega saab parima tulemuse maitse poolest? Pakil kirjas, et segada veega, kuid jah ... veega tehes jätab maitse küll soovida ...

StaticMoth replied to StaticMoth's topic in Fitness.ee

Minu teada on 90 ja 180 kapsli variandid ... 3 kapslit päevas tuleb võtta ehk siis 90 kapsli variant kestab 1 kuu ja 180 kapsli variant 2 kuud

http://www.fitness.ee/main.php?main=artikk...mp;textID=3599#

StaticMoth replied to BULDOOSER's topic in Jõumehed

No logige sisse siis, milles probleem

No offense, aga Sa oled imbetsill

http://thefitshow.com/week3/milos_chest_med.htm

StaticMoth replied to Thom's topic in Algajad

Suht igas suuremas marketis ... ca 15 eeki pool kilo

StaticMoth replied to madis220's topic in Küsitlused

Kust selline meetod pärineb? On sellel mingit alust ka või kellegi "leiutis" ?

http://www.airvitamin.ee/www/

Osta mõlemad ja siis räägi meile, kumba tasuks eelistada Ostaks ise kah muidu ühe neist

Antud linkide järgi näen mina küll, et lehtede arv on hoopis erinev ju ... Vanemal versioonil 736 lk Uuemal versioonil 832 lk Ja vanem ehk kallim versioon on ka seetõttu kallim, et tal on kõvad kaaned. Uuemal/odavamal on tavalised paberist pehmed kaaned.

Insuliini süsti ja heroiini on kergem leida, kui kõrghoonet?